Text: Hasmik Hovhannisyan
Photos: Fëdor Kornienko
Translation: Fëdor Kornienko
[show_post_categories show="category" hyperlink="no" parent="no"]
What is better for children — an orphanage or a mother attached to them, whose ineptitude to be a parent, however, can lead to sad consequences? One solution could be a crisis center for parents and children in difficult life situations, but in Armenia no such center exists.
To get children back
Mariam pours a dry milk mixture into a baby's bottle with her swollen, scarred fingers. She gently fills it with water and shakes for a long time for it to mix well. She brings the pacifier to baby Arthur's mouth — but then stops abruptly. She's frowning now, trying to remember something important that she's forgotten. Then she smiles in relief, and applies the bottle to her cheek: she has to check the temperature of the milk.
Mariam was taught this and other ordinary maternal routines at the hospital from which she had just returned. The doctors there helped the baby gain weight. Mariam tries very hard to memorize and put everything into practice. She believes that if she does, her other children will be allowed to come back home from the orphanage.
The room on the third floor of the dorm is fairly dirty. There is a mountain of dishes with traces of fat, and colonies of mould in unfinished tea on the "kitchen table". Beds, chairs, unclean floor covered with rags of what used to be a carpet — are all inundated with junk. Old large windows with crumbled paint are protected from the wind with polythene sheets that are torn here and there, but it is still cold in the room. There is a "burzhuyka" stove with a broken door, in which, according to neighbours, Mariam burns anything that comes to hand: from firewood to shoes and clothes.
Mariam grumbles that she left the key to her sister and asked to clean up the room before her arrival, but in two weeks her sister did not bother to do it. Mariam's sister lives on the first floor of the same dorm.
"Mariam jan, tomorrow morning we'll tidy up here so that everything is clean when they come from the authorities. We'll make a ton of food, too." — says Christina, a neighbour. "To get your children back."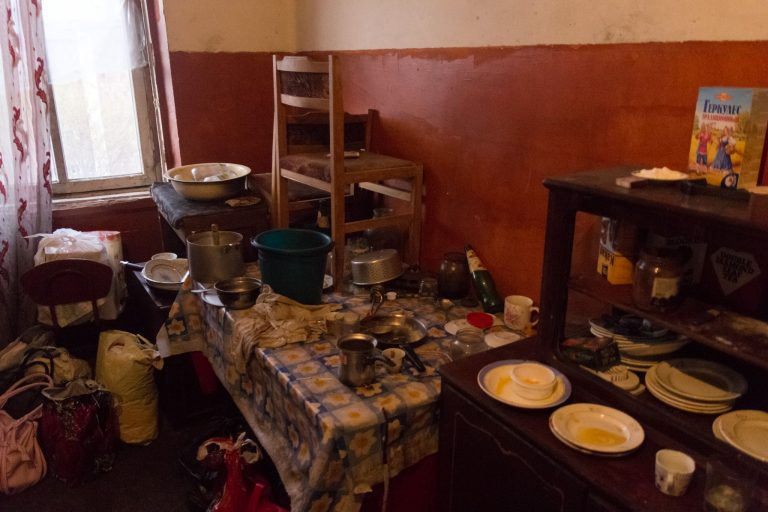 In two weeks we visit Mariam again. Without warning her. Here is little Arthur in a pram, wearing neat light-colored pants and a jacket. While holding a baby bottle, he's stretching another hand towards me and smiling.
Mariam is also happy to see us. The room is clean now, and there is food on the table. Mariam's hair is gathered in a neat bunch. She's telling me the latest news: the baby has added another half a kilo, and she has written a statement to the regional administration with a request to bring her children back home. This is the first time I see her having such long and coherent speech. I notice that the deliberately submissive expression had disappeared from her somehow enlightened face.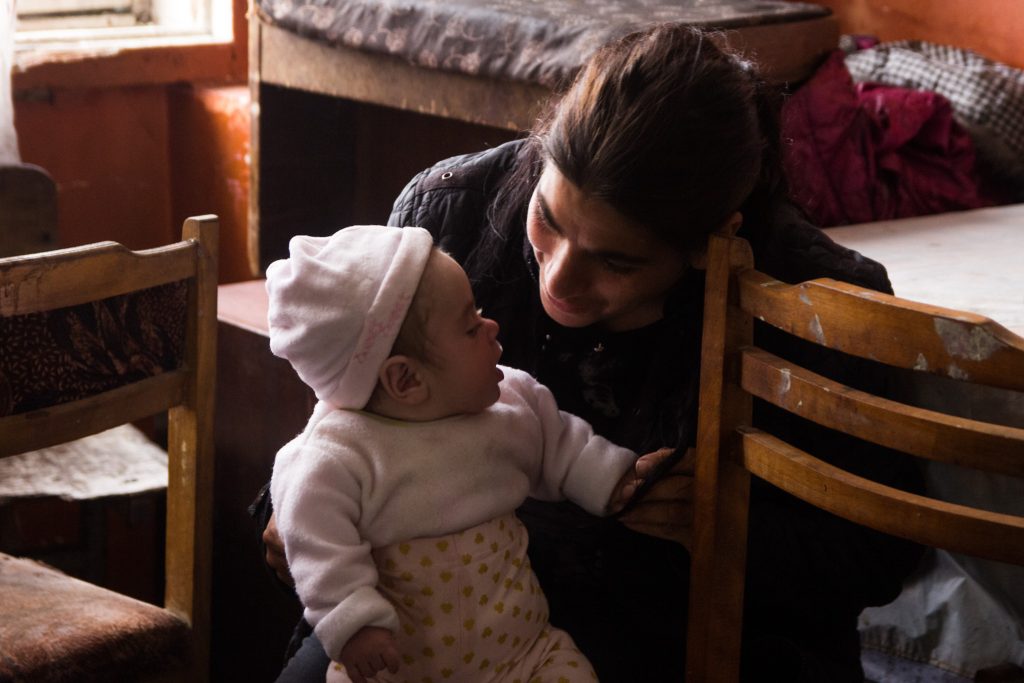 Mariam asks me to find her a job. "I don't want others to help me all my life. I want to support my children myself ", confidently, like her own, she utters the phrase that I had repeatedly told her at each of our meetings.
I promise Mariam that I will try to, and I find myself thinking that since the beginning of our communication she has grown close to me and that I am very concerned about her and her children's future. And I really want her to become close to those who will read her story. To break the everlasting rut of public rejection where Mariam and her big family found themselves in, what they need is an non-judgemental and supportive milieu.
Taught to be a mom
We meet with Mariam for the first time in a hospital. It is crowded in the lobby in front of the children's department. Head tilted to the side, Mariam is listening to my questions, taking long pauses and when she does answer, blinking often and never looking straight at me. Her answers are brief, terse and often seem to be made-up. Judging by her gloomy, expressionless face, it is hard to determine how old she is. Maryam says she's thirty-nine.
From time to time Mariam reminds me that her children won't stay in the orphanage forever, and she will pick them up as soon as her youngest gets better and is able to leave the hospital.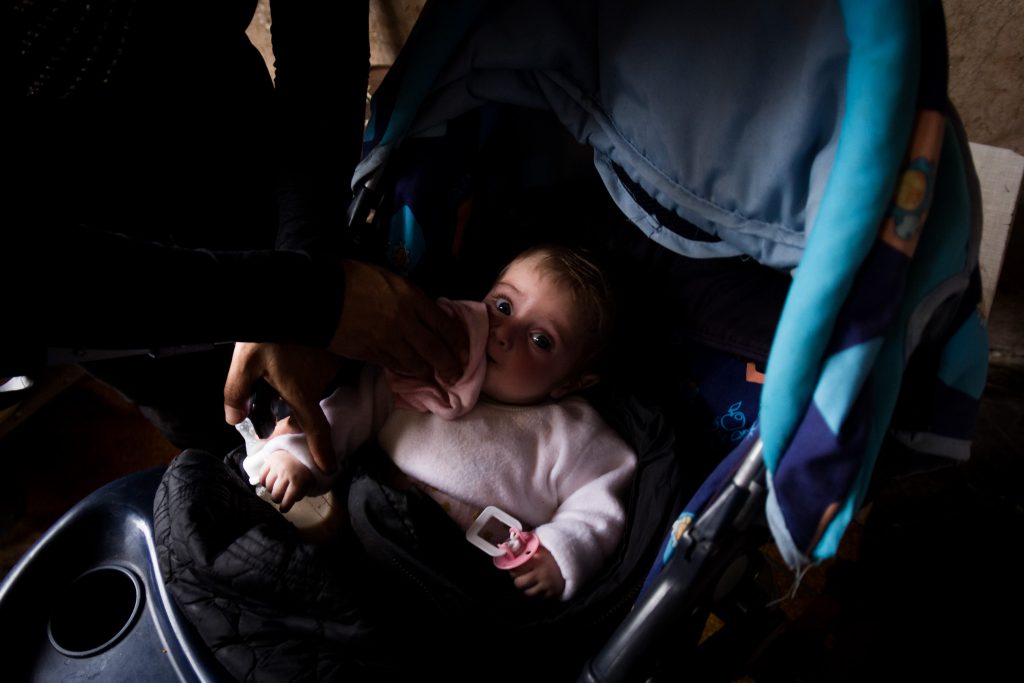 Arthur and his mother were brought to the Arabkir Medical Center by ambulance from the Vanadzor hospital. The child weighed only four kilograms, gaining only one kilo during the first six months of his life.
The only social worker at the medical center, Anna, abandoned all her other patients and would leave little Arthur's room only for a quick snack.
Mariam came there without a change of clothes for herself and the child, nor with diapers or baby food. On the first day, a nurse lent Mariam her uniform. A young mother from the next room sent her husband to buy diapers for Arthur. The medical staff shared the food with Mariam, and Anna asked for help from Lala Manukyan, the Vanadzor blogger.
Using her facebook page with a lot of following, Lala writes about people in need. She organizes and provides them with both material and psychological support, often creating impact comparable to the work of a few ministries and NGOs.
Lala's post on facebook had just in a few hours gathered a huge amount of clothes, diapers, baby food and food for the mother, as well as a lot of disapproving comments.
"Deprive her of parental rights immediately, and give the children to an orphanage," "Why give birth at all, if you can't take care of your kids?", "People like her gotta be neutered," the commenters were outraged, rushing to save the baby.
A day later, Mariam's hospital room looked more like a warehouse, and the department for children under one-year-old looked like a crowded marketplace with lots of visitors with large bags and all sorts of things in them.
Mariam had to learn the elementary skills of motherhood. She neither knew how to prepare the milk mixture properly, nor could fathom that the bottle should be washed, and that the nipple that fell on the floor should be sterilized before putting it back into the child's mouth.
She didn't know how to deal with diapers, put rags under the baby's bottom, and threw away the used clothes, "cause it was dirty".
Mariam was taught to do laundry and wash the child's clothes, and — when the baby got somewhat stronger, — to cook porridge for him.
"Arthur doesn't reach for a toy, he doesn't try to sit down, and if you sit him, he falls like a rag doll," says Ziba Georgievna, head of the department for children under one-year's old. "But it seems no one tried to teach him. Mariam doesn't take him in her arms, neither does she play with him. "
In his early days, the child spat out the milk. "We had a feeling that he didn't know what it was," says Anna. "He only drank water without issues. Now he has rosy cheeks, he's smiling. He has a bunch of diapers and dry mix. Mariam has already learned the correct feeding regimen. But even then she knows that we can show up at any moment and check. And when she returns to the dormitory, will someone control her hourly?"
During the two weeks in the hospital, the child gained almost a kilogram. After a heap of examinations and analyzes, he was discharged with a diagnosis: developmental delay and microcephaly.
When Anna, the social worker, asked Mariam how she was going to go home with all the things that people had brought — easily enough for one small truck, — Mariam thought for a second, bowed her head and, without looking at Anna (she never looks straight into your eyes), confidently replied:
— I will ask Narek to come for us by taxi.
Narek is her six-year-old son. He, his brother and two sisters were temporarily placed in an orphanage when the baby was sent to the hospital.
Two homes
In the end, we decided to bring Mariam and Arthur back to Vanadzor. We squeeze the packages with aid into our small Golf's cabin. Two huge bags completely close the rear view, the photographer Fedor puts on his lap everything that didn't fit elsewhere, and one of the bags falls either on my shoulder, or on Mariam who's protecting the baby with her hand — all the way to Vanadzor. The ballistics of the bag depend on the size of bumps on the road, and whether the left or the right wheels are getting bumped.
Mariam's phone is exploding because of calls. Calls from her husband, the sister and Vanadzor social worker: Anahit. For each new call, Mariam responds with a loud sigh and a grumpy tone.
Every ten minutes, Mariam makes a call herself. It is to the orphanage — to remind them that she and the baby have already been discharged, and on Monday she will definitely come to take the children back. She also asks to call for the eldest daughter, so that she can listen to her voice.
"Nara, how are you? Look after the little ones, do you hear me? I will come very soon, just in a few days, and will pick you up." Her voice becomes soft and her face lit with some kind of warm light.
— Do you want us to go to the orphanage now, and you'll see your children?
Mariam freezes for a moment, carefully looks into my eyes — for the first time since our acquaintance — and nods timidly. Ice is moving. Mariam no longer has a sullen face, and she doesn't reply to my questions with harsh, monosyllabic answers.
In the courtyard of the Vanadzor orphanage Mariam's children, eleven-year-old Naira and six and five-year-old boys, rush to hang on Mariam's neck. Mariam didn't show herself as quite a creative person when choosing names for her children — both are called Narek. Once upon a time, Mariam had another Narek. "He was taken away from me by force and adopted," Mariam says viciously and quickly lists the names of the people "involved in this matter."
Two-year-old Rose breaks out of her mother's embrace, then clings to her older sister and cries.
In the courtyard of the Vanadzor orphanage Mariam's children, eleven-year-old Naira and six and five-year-old boys, rush to hang on Mariam's neck. Mariam didn't show herself as quite a creative person when choosing names for her children — both are called Narek. Once upon a time, Mariam had another Narek. "He was taken away from me by force and adopted," Mariam says viciously and quickly lists the names of the people "involved in this matter."
Two-year-old Rose breaks out of her mother's embrace, then clings to her older sister and cries. "Rose, this is our mother," Naira says sternly and pushes the girl back to Mariam. Then looks at Mariam anxiously, to check if she was upset, and tells her that Rose is just being naughty.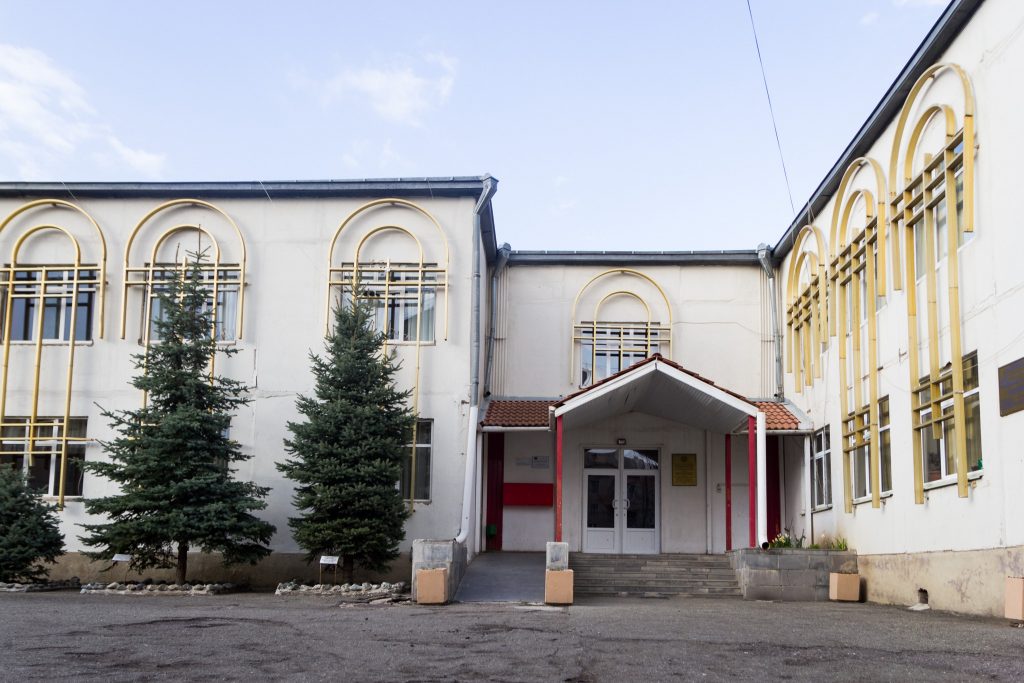 Naira, Rose and Arthur have piercing blue eyes. "It's their dad's genes," Mariam raises her head. "He is Russian."
The father serves his time in the penal institution of Vanadzor. The last two children are the result of the parents dating in prison. "He had a fight with someone. Because of jealousy," says Mariam, briefly and not trying to hide the fact that she is proud.
According to her, it was love at first sight. And it still was burning bright. The husband, whose name is Arthur, just like their last child's, calls her several times a day: he supervises the family remotely, and demands detailed reports on each and every matter, while providing Mariam with clear instructions for any life situation. Arthur and Mariam are not married officially, so she is listed as a single mother.
Thirty-six children live in Vanadzor's orphanage. Although the building clearly needs redecoration, the interior is clean, tidy and full of light. Children have the opportunity to engage in hobby groups, as well as their own personal space and, according to the orphanage's deputy director Harutyun Evoyan, there is enough staff to have an individual approach for each child.
Naira leads us into the game room to talk. Mom with the baby in her arms and the brothers obediently follow her. Naira tells them to stop and wait for her in the hall. They obey with the same diffidence.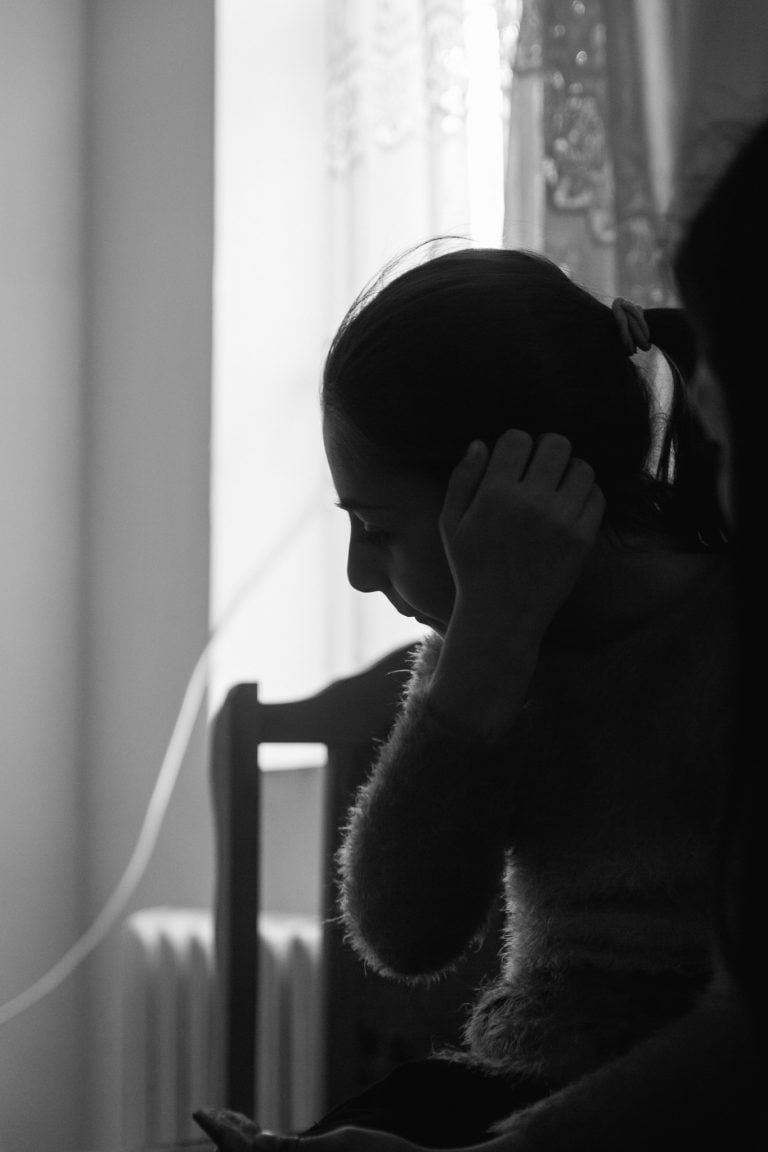 Naira has laughing eyes and a small thin body. It is hard to believe that this brisk and intelligent, tough girl indeed studied at a boarding school for mentally retarded children.
Naira picks out her answers with caution, just like her mother, who is constantly afraid that if she says something wrong, the children will be taken away for good.
"I like it here," says Naira. "The place is spacious, I have friends and entertainment." Then she adds hastily: "I would like to live half the time here and the other half at home with my mother. I wouldn't want to stay here indefinitely. The caregivers here are sometimes so evil, it is better not to get them at a bad time." She's laughing as she says that. "My mom, on the other hand, can get mad, too, but then quickly calms down."
It seems like some of her answers have been memorized. The story of Seda Gumashyan, coordinator of the inclusive education program of the school number eighteenth, where Naira is studying, comes to my mind. One day during her visit to the family, Narek Sr., fearing that she had come to take them to the orphanage, turned off the stove in the room. She would feel cold and leave immediately, he thought.
"My mother needs me at home, too," Naira explains. — I come from school, do homework and then help her. For example, when Arturuk is sleeping, mom sweeps the floor, and I wash the dishes."
Naira has a dream — to become a hairdresser when she grows up, and "make girls beautiful". "And I will become a wolf," Narek Jr. laughs when we go down the hall. "To be as strong as one."
The silent and always serious Narek Sr., whom the deputy director of the shelter foreknows to have a parliamentarian future, gives me an incredulous, even hostile look. Maybe it is the same look he gave to Seda.
Nowhere else to go
A bumpy road leads to the garbage disposal office on the outskirts of Vanadzor. "The Office" is comprised of garages with garbage trucks and several iron containers. Homeless families live in them. Men here are almost all involved in the cleaning of city's garbage.
A resident of one of the "houses" Vardush works as a janitor — sweeping the city streets at night. In her rusty container it is difficult to breathe because of the abundance of trash that gives off a foul smell. In the room there are two narrow bed-like constructions. One of them is occupied by a woman with whom Vardush shares the housing. This iron container is a luxurious apartment for her, especially compared to the discarded body of a Ford Transit where she used to live before.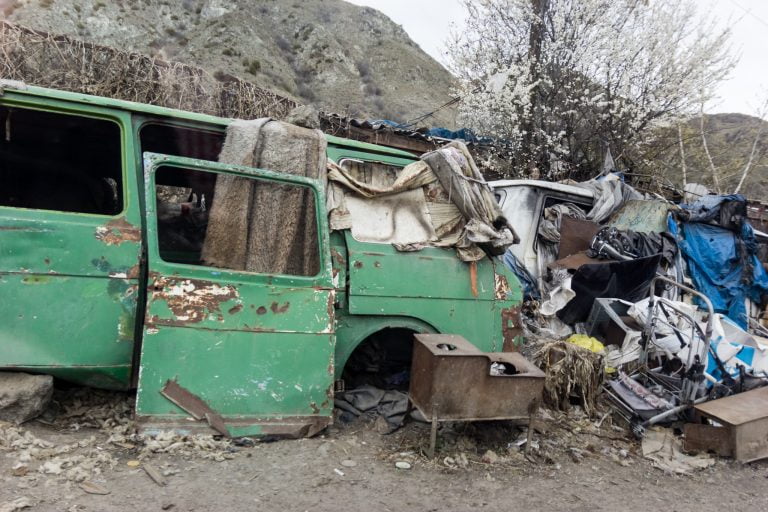 Smiling serenely, Vardush pulls out a kitten from under the pile of rags and cuddles him to her chest. He tries not to let him out into the yard. There are dogs there — they are not aggressive, though.
Vardush answers questions kind of out of place. Sometimes she nods vigorously, her smile never leaves her face. By the yellow, rare teeth and yellow fingertips you can tell she is a heavy smoker. There are numerous bottles of cheap vodka under the bed, and outside, too.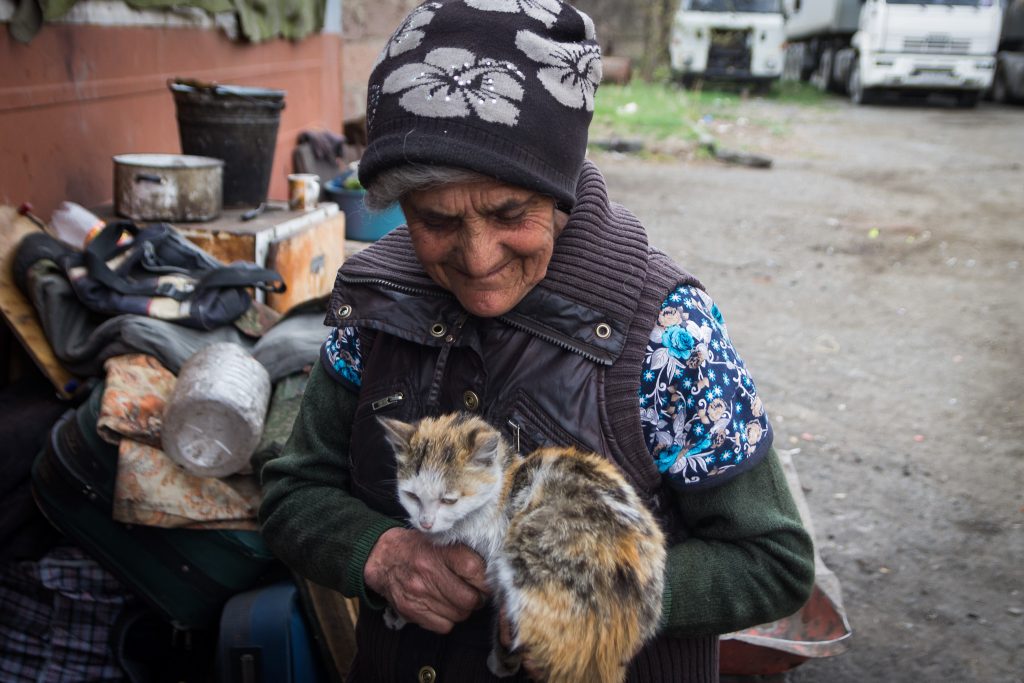 Vardush is Mariam's mother. Mariam grew up in these slums with her brothers and sisters. For a long time she worked on the garbage truck. Even after getting a husband and four children she continued to live here.
Five years ago, one of the children died. A pot of boiling water overturned on a four-year-old girl, when Mariam, going to work, left the child with her mother. The girl was "treated" by means of traditional medicine, then wrapped in a blanket and put on the ottoman couch "to recover". She had soon died from the shock.
By coincidence, it was on the day of the child's death that the junior member of the Vanadzor regional administration for the protection of the rights of the family, women and children, Ani Ghazaryan, made another check-up visit to the Mariam family. According to Ani, the problematic and "socially unhealthy" family of a woman has always been watched over by the administration.
The Board of Trusteeship and Guardianship, having made sure that Mariam did not have adequate housing and living conditions for the maintenance of children, tried to put the family in a dormitory, but "there was no space available and the problem did not get resolved". In the day care centers for children's development of various NGOs, children were also not taken due to their preschool age. It turned out that the children who got into a difficult life situation had nowhere else to go except to the orphanage.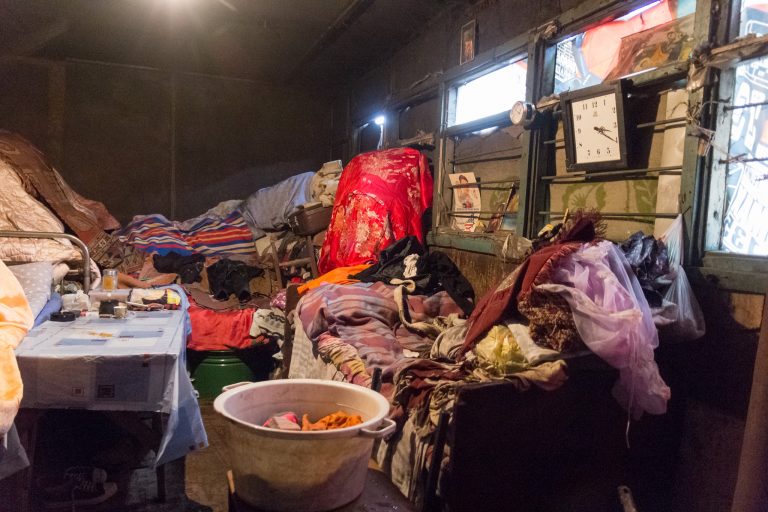 A senior official of the department Naira Ambartsumian says that poor families from neighbouring cities and villages are constantly moving to Vanadzor. The city does not have a center for social and psychological rehabilitation, and it is unable to provide them with appropriate assistance. The regional administration and the mayor's office of Vanadzor "dump" such families to NGOs operating in the city, but their resources are limited.
Mariam's children were placed in the Vanadzor orphanage, but the court refused to deprive her of her maternal rights, deciding that "poverty is not a reason to do so." Soon it turned out that Mariam was pregnant. At last, she was given a room in the dorm.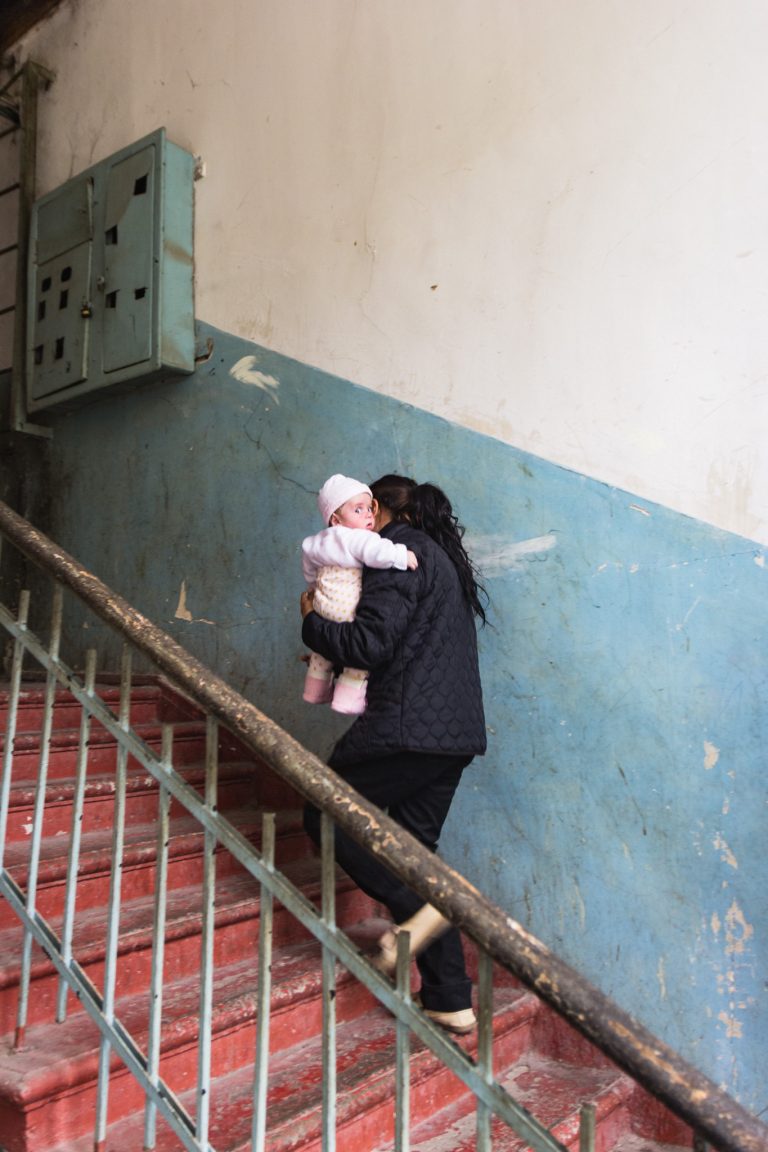 Ani says that Mariam kept coming to the administration and demanding to bring children back. She even caught staff members on the street, demanding and threatening, saying that she would bring them home whatever the cost.
Since the court hadn't recognized the children as being left without parental care, and accordingly, had not determined their official status, they could not stay in the orphanage for a long time. When the youngest girl, Rosa, was two years old, the charitable organization "Aravot" included the family in the program of "unloading" of the orphanages and other care institutions. The program has been working for fifteen years in cooperation with the RA Ministry of Social Welfare.
Under the nonprofit's responsibility the children were given back to Mariam. Despite the fact that her skills of a housewife and a mother, to put it mildly, left a great deal to be desired.
"The key to our decision was a very strong emotional connection between Mariam and her children," said Margarita Shahverdyan, the head of "Aravot" NGO. — "There are mothers who put their children in an orphanage and for years forget about their existence. But not Mariam. She visited them twice a week, and every day she talked to them by phone. You should have seen how desperately they cried when they were taken to the orphanage. "
Mothers and children were provided with a bigger room in the same dorm. Mariam was pregnant with the fifth child.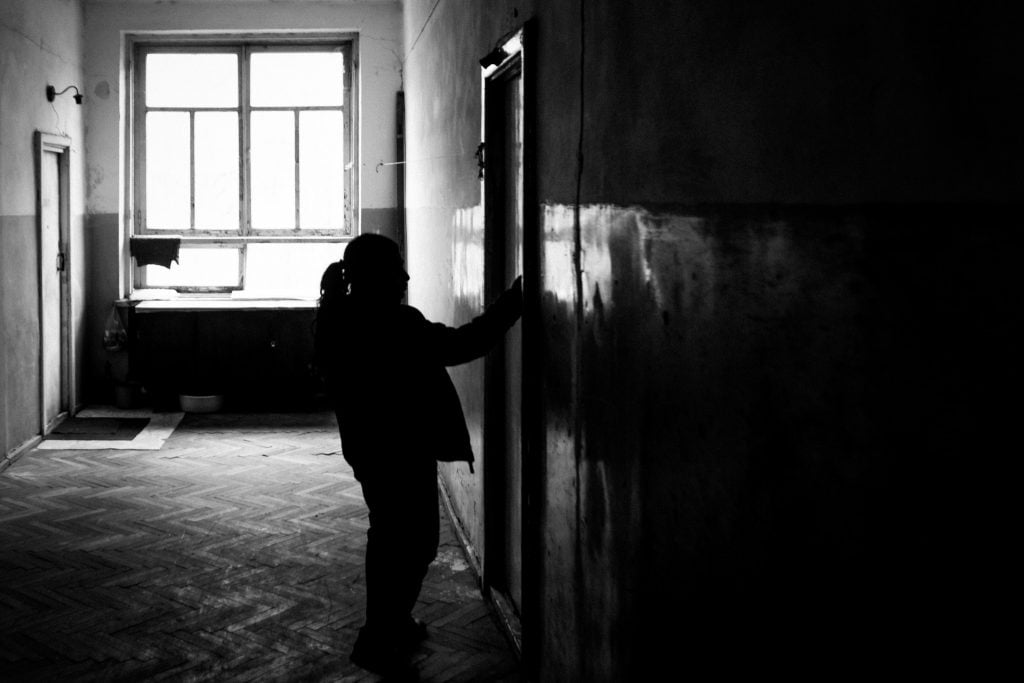 Out of the frying pan and into the fire
In "Aravot" they were outraged by the comments under the facebook post about Mariam: people were angry and accused the NGO of negligence. Anahit Petrosyan, the social worker who was assigned to the family, believes that with Mariam they are moving with slow but steady steps forward.
According to Anahit, Mariam's distrust towards people complicates the work. Every new person for her is an enemy, who will certainly blame her for everything and try to take her children away. That is why, Anahit says, for a long time she refused to go to the hospital with Arthur when he stopped gaining weight. She was scared that somebody would steal the children while she would be away.
Mariam's aggression is nothing but self-defense against the ceaseless flow of accusations coming from the society. Mariam was tired of blaming, and of the question that popped up in every public conversation: "Why did she give birth?" And the "correct" answer that usually followed: "Surely she did it to be on welfare."
Anahit says that it took her a long time before Mariam learned to trust her.
"It turned out she can be very obedient. If you give her a task, she does exactly that. Unlike her mother, Mariam neither smokes nor drinks, and all her thoughts are about her children.
She realized that I communicate with her on an equal footing and began to open back up. She learned how to call and consult with me when necessary. For example, she asks me: the eldest daughter is beating her younger brother, what should she do? I advise her to not beat or yell at the girl under any circumstances, and to try to explain that she, as the eldest one, should take care of her siblings. Or, for example, she sent the boy to buy bread, and he spent eight hundred drams out of a thousand on colored markers. Mariam calls me in a rage, and complains. Again, I warn her against punishing the child, and encourage her to tell him about the importance of money, about the fact that he needs to spend it adequately and to consult with his mother. "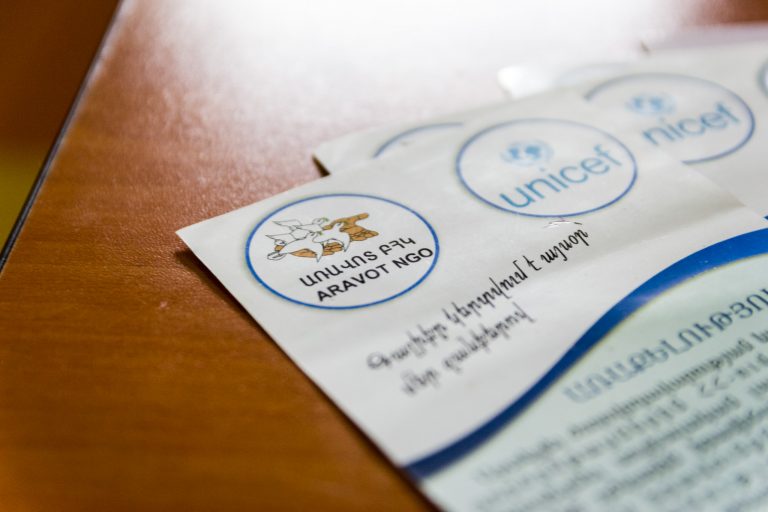 Anahit says that the organization divided the work with Mariam into two stages: first learning everyday skills, then establishing the relationship with the outside world.
"Aravot" paid for painting the walls of the dormitory room, purchased beds, some furniture, and household utensils. In addition to the stove they bought two more electric stoves, especially those that turn off automatically when tipping over. According to the program, Mariam is reimbursed for electricity. The woman has a gas tank for cooking and heating water. She was also given coupons to the public bath.
According to Anahit, Mariam learned to cook, clean the house and bathe the children. From the allowance for children of 55 000 drams per month, she herself regularly pays 5,000 drams for the kindergarten for both Nareks.
"These people who wrote that no one is dealing with Mariam, they don't even begin to realize where we pulled them from and what kind of progress we accomplished with her," says Margarita Stepanovna. She also reminds people, who virtually place Mariam's children in the orphanage from computer screens, that special institutions negatively affect children's mental development.
It's hard not to agree with her. Garbage garages are a terrible place, but orphans do lack attention and maternal love. It is worth noting, however, that the dorm where Mariam now had settled, is unlikely to affect anything in a positive way.
Many taxi drivers even refuse to go to the three-story building on the outskirts of the city. Gloomy long corridors, one dirty toilet for the whole floor with three semi-closing cabins and puddles of urine right on the floor. Rows of "apartments" divided into rooms with do-it-yourself partitions made of blankets, curtains and cabinets, stretch along the corridors.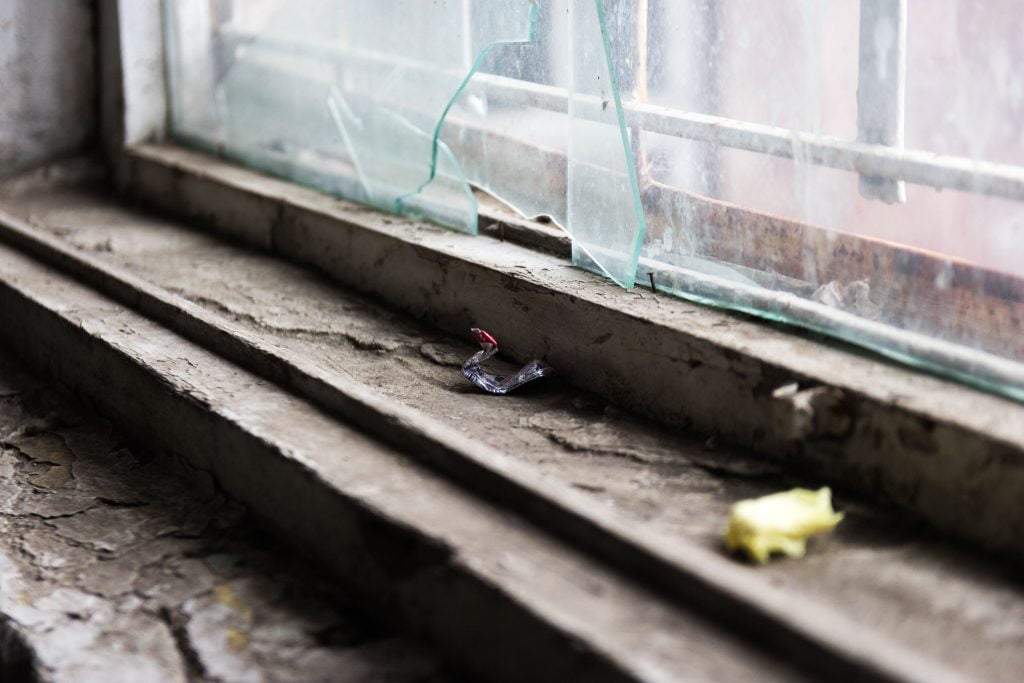 Behind each door live people who have nowhere else to go. All kinds of people. Someone escaped to here from a tyrant-husband along with a small child, somebody else's relatives deceived them into selling their own apartment, the other person tries to provide a more or less decent life for a brother with a disability by means of a minuscule welfare allowance. Ex-prisoners also found shelter here, people with drug and alcohol addiction, violent or peaceful, with the hope of ever getting out — or having long since given up on everything.
But even here a lot of people dislike Mariam. "Because she receives so much help," explains a neighbour Christina, one of the few who treat her well. Christine shares a room with an asthmatic mother and two young sons. She ran away from her husband, who drank and raised his hand on her.
Helping is not easy
The financial assistance comes to Mariam from "Aravot" and other non profits, regional administration, city hall and private philanthropists.
Lilia Abrahamyan who voluntarily helps the have-nots first visited the family in the winter when little Arthur was born. "It was cold in the room," she recalls. — The children were hungry and dirty. A newborn who wore only a bodysuit drank muddy water from a bottle. "
Lilia and her friends bought baby food and milk mixture, sweets, warm clothes and winter shoes. Four cubic meters of firewood were delivered to the dormitory as well.
Less than two weeks later, Mariam called her and asked to bring more firewood. Allegedly, the previous wood was stolen by her sister.
When the children appeared in school wearing old torn shoes, the neighbours said that Mariam burned the new clothes and shoes in the stove. The baby food also disappeared.
The family was also visited by the coordinator of the inclusive program at Seda Nairi school. She also points to the fact that the room was frequently cold inside, there was little food, and Mariam behaved carelessly.
"I took the child in my arms, and I felt that the diaper was totally wet. Wires from the electric stove and TV were connected into the same outlet without the plug. I wouldn't dare to touch the bare cables, but yet a six-year-old boy was briskly turning it on and off. We bought her baby food, but none of us could go to her house every day and check whether she was preparing it properly. "
Seda says that the eldest daughter returned from the orphanage with fairly developed everyday and behavioural skills. After a few months, it seemed as if the child was totally different. She ceased to maintain her appearance and basic hygiene. Parents of other children began to complain.
Social worker Anahit taught Mariam to keep children clean and bathe them every day. At the same time, according to what Seda had said, once in the middle of winter Naira came to school with dripping wet hair. This is the way Mariam learned that children have to be bathed.
Stolen childhood
Several years ago "Aravot" began working with a girl from a correctional school, who had no mental problems. They visited her mother. The family lived in the garbage garages, too.
"We decided to work with the family through the girl," says Margarita Stepanovna. — Moving very slowly, with baby steps. We found a private benefactor, and with their help it became possible to move the family, which consisted of the mother and her three children, to the dorm. Now this girl has already graduated from college, she works and maintains the family by herself.
That girl is Mariam's niece. "Aravot" intends to repeat the experiment with her eldest daughter.
Naira is an independent person and, perhaps, will pull this through. But how fair is to deprive her of her childhood by making her the head of the family at eleven years old? This question is asked by the deputy director of the Vanadzor orphanage, Harutyun Evoyan.
"Naira came to us being such a serious little mom, always caring about her younger sister. When she was coming from school, the teacher would tell her: go and do your homework, and she would reply: 'First I'll go take a look at my sister and check if she had her milk.' When they were brought here, that three-year-old girl didn't get down from Naira's hands, and wouldn't eat from anyone else's hands, too. A few days passed, Naira saw that Rosa was being taken care of by our staff, and she relaxed, finally started laughing again and acting lightly, like a child should."
Evoyan doesn't deny that hard work with Mariam could potentially pay off, but he doubts if the price wouldn't be too high. "It is important to give priority to the child's interests. It is quite normal to help the mother, but the girl became a mother herself way before her time. "Aravot" could continue doing their work with Mariam, but before there is any tangible result, let the children stay in the orphanage."
To take the lead
From time to time Mariam calls me: at first she always asks how I am doing, then informs me that soon she will go and pick up the children. But as a matter of fact, the board of trustees decided to once again appeal to the court with a request to deprive her of her parental rights.
This raises a fair question. Mariam could be deprived of rights for children that she already has. However, what about the new children who may be born again into this family?
Some of the people who help Mariam confirm that there is a strong affection between the mother and children. Others assume that the money that Mariam receives from the state plays an important role in her getting pregnant over and over again. Or that her situation is so difficult because she in reality she doesn't want to change.
All these assumptions may be true and not mutually exclusive. Life on welfare and benefactors' money isn't perfect, but it is easier than an independent and constant search for livelihoods.
Free food and clothes are hard to give up upon. But material assistance, issued free of charge and often uncontrolled, puts people in a certain comfort zone, from where it is difficult to get out. As a result, it does not lead to an increase in their standard of living.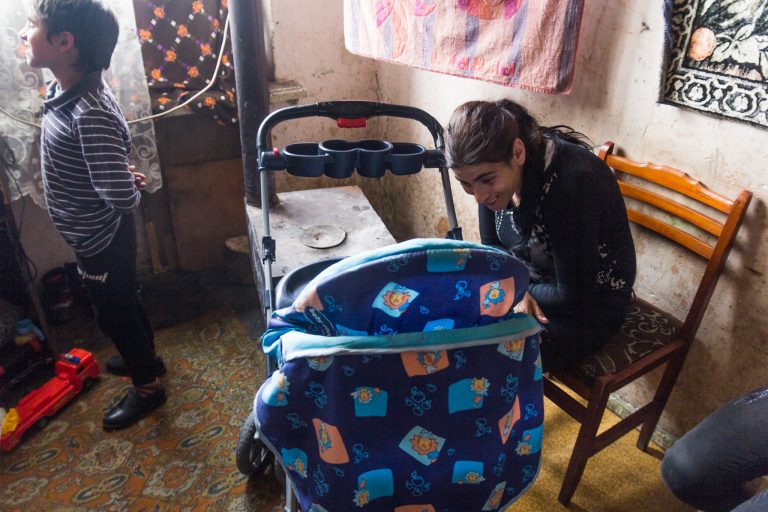 Mariam has very low self-esteem. Even in the dorm, she is like a member of the Indian lower caste, untouchable. According to Christina, she used to be beaten up by her neighbours, demanding not to use the shared toilet, "because she was a slob."
Even her own sister keeps Mariam in perfect obedience. Christina told about one particular feature of Mariam: she gives away things right and left, especially to people who mistreat her. As if by doing she seeks to earn the goodwill of the "higher castes".
"I assure you, Mariam has never been deprived of attention in our region," said Naira Hambartsumyan, senior officer of the Vanadzor regional administration for the protection of the rights of the family, women and children. — Various organizations and individuals help her, and she is signed for many social programs. The administration, city hall, and the police check upon her from time to time. We even go to kindergarten and school to check the children. "
But somehow, the woman who received so much attention failed to acquire the ingrained skills of everyday life and parenthood, and her child was hospitalized with malnutrition.
Huge grocery bags and cubic meters of firewood and even daily visits for half an hour will not solve Mariam's problem. Truly, she is obedient. But also easily forgetting, since she does not understand the causal relationship of her actions.
Mariam grew up in the garbage garages of parents who had intellectual problems. Both she and her brothers and sisters studied in a boarding school for children with mental retardation. Mariam doesn't know how to do things "the right way", because she had never seen this "right way".
Therefore, she disposes things in such a peculiar way. For example, a new expensive washing machine that was donated by a charitable organization, Mariam sold for only 100 dollars a few days later.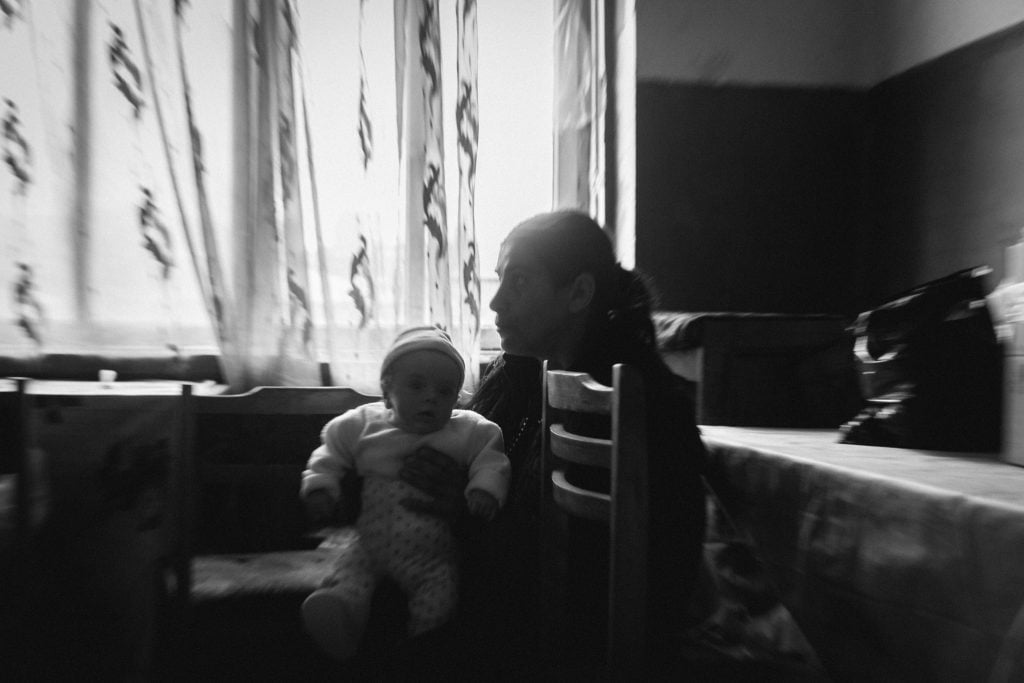 The conditions in the dormitory are slightly better than in the garages. But its inhabitants are isolated and rejected by society in the same way.
The diagnosis of "microcephaly", which six-month-old Arthur was diagnosed with, is very serious and requires a long and competent rehabilitation, which he is unlikely to get it at all in the current conditions where Mariam lives.
There are thirty-one children per one social worker like Anahit Petrosyan. Even with all her compassion and readiness, it is hardly possible to devote enough time and attention to each child.
There are families that need just a little push to take them out of the quagmire, and then they will manage by themselves. Mariam is not like that. It is necessary to take her by the hand and lead on. Persistently, and for a long time.
After several days in the hospital, the untidy, poorly dressed Mariam transformed, thanks to new clothes and hair gathered into a neat tail. There she was constantly watched by the staff. She was in a place different from her usual whereabouts, where cleanliness was the norm and it was easier to get used to it.
The husband will soon be released from prison. Once upon a time they lived in a village where they both worked as milkers. A dreamy smile touches her face when Mariam talks about it. Timidly, she asks for help in finding such a job again.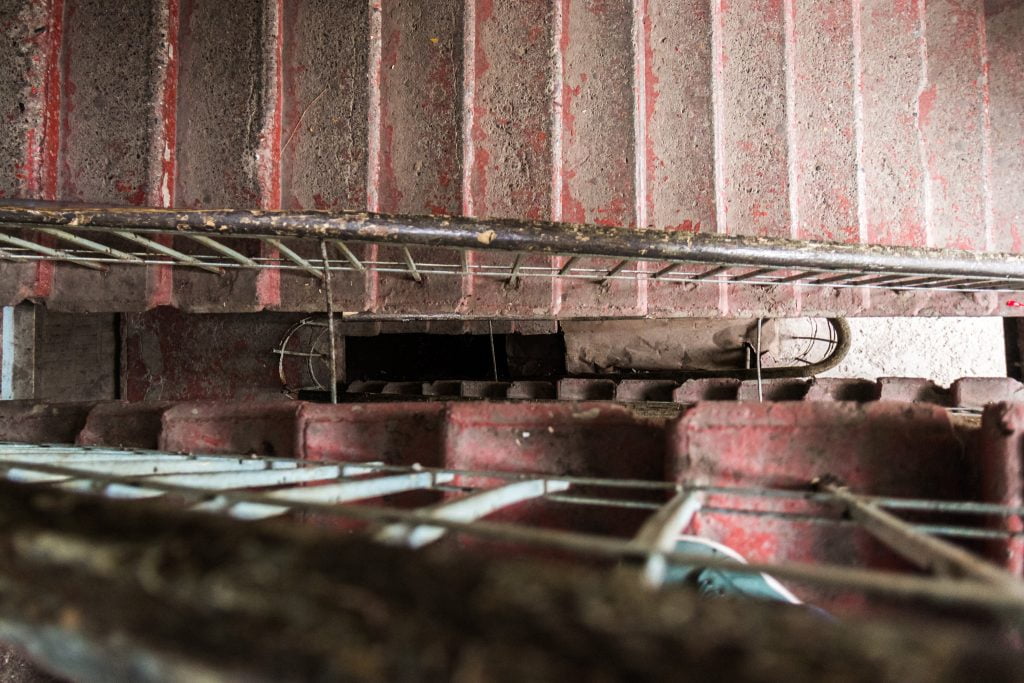 I go down the shabby steps of the domintory and imagine the ideal solution for Mariam, her children and other families in a similar life situation: a center for temporary accommodation for people in crisis. It should consist of several cottages, somewhere in the beautiful Lori nature.
The walls and furniture in the cottages are surely bright, the windows are large and sunny — so that the whole atmosphere will be contributing to the dedication to change your life. These houses will accommodate families, and a social worker will live in every such cottage. An individual social and psychological support plan would be drawn for each family.
The task of the center is to prepare people for an independent life in the future. And also to create a community of those who have already overcome the crisis, who, having received assistance, want to become equal assistants themselves.
The center could train people in various crafts, as well as provide them with work on the spot — keeping cows and selling cheese, for example, and other dairy products. Growing things, knitting, sewing, working with wood — in other words, acquiring skills that would help them get back on track with their life. Certainly, there will have to be hairdressing courses. So that Naira learns how to "make girls beautiful" when she grows up.
To help a person gain their own dignity and faith in themselves, to not feel as an outcast of society, but rather as its equal member — and then let them go to the outside world. Having such centers throughout the country shouldn't be totally impossible, should it?
When we met for the last time, Mariam had milk powder from the charity ration that she didn't need for her boy. She asked me to give the powder to some other kids.
"They help me so much. Maybe I can do something good to someone else, too," she repeated several times, as if savouring the feeling of being on a new side of life: the one that's not asking, but giving.
We are building a community of affectionate, non-judgemental people with an open mind. If you want to support our work of investigating the deepest social issues through personal stories of real people, the best way is to join us and become a Patron.
Text is over, story goes on
Here on Kalemon, we bring unspoken social issues to life in the form of narrative stories. Our mission is to create social impact by breaking taboos and freely discussing important matters, such as violence, poverty, discrimination, parental and medical ethics, and so on.
Kalemon is a non-profit online media that exists thanks to the financial support of individual people. Small, but regular donations from our readers help us write articles, train & recruit new authors, maintain and develop the website.
As little as 2 dollars per month can make a difference. Thank you! Translation of the article was supported by the civic society support programme in Armenia by NESEHNUTÍ (Transition programme of Czech MFA)